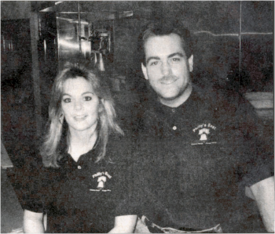 Stationed in San Diego while serving in the US Navy in the 1980s, Bob Levey had come to love pretty much everything about Southern California. The laid back West Coast lifestyle. The beautiful ocean. The endless beaches.
But he drew a line in the sand when it came to sandwiches - especially his favorite kind, cheesesteaks.
Not being able to get an authentic Philly cheesesteak on the regular was just too much to handle. Not even 365 days of 72° and sunny could fill the hoagie-sized hole in his stomach.
A long way from home and longing for that incomparably meaty cheesy delight, Bob and his wife, Andrea - herself a Philly native - decided to take the longest of long shots: they would open up an authentic cheesesteak restaurant in Southern California.
"You're doing what exactly where?" everybody back home asked.
"The exact same cheesesteak you get in Philadelphia. With the exact same ingredients. But in LA."
That meant the Amoroso rolls. The sweet peppers. The onions. The mushrooms. The wiz. The Hank's sodas. The Herr's chips. The Tastykakes. They'd bring all of it out to Southern California. Everything would be the best Philly had to offer - and they'd call it Philly's Best.
Everybody said the same thing.
"Good idea. Great name. You're crazy!"
And they were right. Bob and Andrea were crazy. Crazy about cheesesteaks.
They believed in their dream. They believed in themselves. And perhaps most importantly they believed that Southern California would go crazy for properly made cheesesteaks.
And they were right. The first Philly's Best opened up in 1992, in Fountain Valley. Things were a bit shaky in the early going, but Bob and Andrea never compromised on their standards. Never changed up their ingredients. Never skimped on the steak. Through an undying devotion to, and straight up passion for cheesesteaks, they made it work.
And today, the one-off, one-of-a-kind shop serving up authentic Philly cheesesteaks has come to be known as one of the best sandwich shops in all of Southern California, with 19 locations. Philly's Best Cheesesteaks have been voted the 'Best of LA', the 'Best Sandwich' in OC, and 'Favorite Sandwich Shop' in the Inland Empire.
Crazy how things turn out.